Grass Valley, OR
Finnegan Ranch Retreat
https://www.airbnb.com/rooms/26500496?s=51
www.airbnb.com/rooms/26500496?s=51
Email:[email protected]
Grass Valley Camp / RV                                                                                              https://www.hipcamp.com/en-US
Grass Valley RV Park
541-333-2331
307 North Mill Street
Roger and Bonne Whitley
(Apartment for rent in Grass Valley)
541-333-2292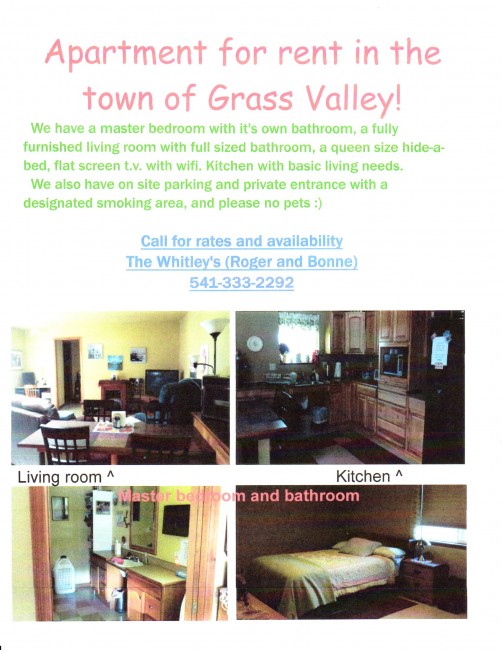 Moro, OR
(10 miles from track)
Breaking Winds Lodge
www.breakingwindlodge.com
$125 per night (50% at booking balance on arrival). 3 Bedroom, 2 Bath, 1800 sq ft fully furnished home. 2 Queen beds, 1 Double plus a fold out couch. BBQ on deck. Available for weekend and short term rentals.
Sherman County RV Park
541-565-3127
66067 Lonerock Rd, Moro, OR
Tall Winds Motel
541-565-3519
Located on Hwy 97
The Craftsman InnThe Craftsman Inn Moro
608 Main St, Moro, OR
Reservations call 541-993-5296 or email [email protected]





Early Breakfasts for ORP participants!
Wasco, OR
(20 miles from track)
Biggs Junction, OR
(29 miles from track)
Biggs Three Rivers Inn
541-739-2501
91484 Biggs Rufus Hwy
www.biggsthreeriversinn.com
Dinty's Motor Inn
541-739-2596
91581 Biggs-Rufus Hwy
Nu Vu Motel
541-739-2525
91495 Biggs Rufus Hwy
Maupin, OR
(30 miles from track)
Rufus, OR
(35 miles from track)
Rufus Hillview Motel
541-739-8221
203 Wallace St
Goldedale, WA
(40 miles from track)
Dufer, OR
(45 miles from track)
The Dalles, OR
(50 miles from track)